Science in Africa
The African Institute for Mathematical Sciences in Cape Town, South Africa, is marking its 10th anniversary. The institute has pioneered a new form of science education in Africa, where lecturers and students often live side by side, creating a 24-hour learning environment. It is very much plugged into the global physics community, and attracts visiting lecturers from around the world. Founder Neil Turok explains the impact of institutes such as AIMS, in bringing a scientific focus to development issues.
The boundaries of Genetic science have been pushed back this week, with the recovery of a genetic sequence from a horse bone frozen in Canadian permafrost around 700,000 years ago. This breakthrough paves the way for extracting genetic data from organisms which died a million years ago.
We also visit a new exhibition in London which features one of the milestones in the race to discover the structure of DNA. Photo 51, an image created by X-ray crystallographer, Rosalind Franklin, at Kings College, London, in 1953 shows the first definitive evidence for the double helix structure of DNA. It is now the inspiration for a collaborative science and art project.
(Photo: Neil Turok the founder of the African Institute for Mathematical Sciences, with students. Copyright: Neil Turok)
Last on
Sun 30 Jun 2013
04:32

GMT
Two pieces of the 700,000 year-old horse metapodial bone, just before being extracted for ancient DNA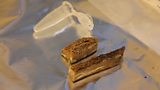 Photo credit: Dr Ludovic Orlando
Histone Bobbin by Shelley James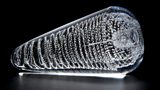 Photo credit: Ester Segarra
Featured in...
Listen to documentaries, interviews and news items on Africa from the BBC archives