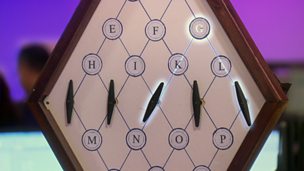 The invention of wireless communication by Guglielmo Marconi
Duration: 08:36
Michael Mosley, Cassie Newland and Mark Miodownik from the BBC series 'The Genius of Invention' describe the scientific achievements of Guglielmo Marconi. In 1876 Alexander Graham Bell invented telephone. Marconi used a transmitter and receiver to turn electromagnetic waves into the first wireless communication.

In 1897 on Salisbury Plain Marconi used a balloon to hold an aerial antenna high up to produce a stronger signal, and so communicate wirelessly. This experiment is repeated by the Royal Signals. In 1901 Marconi sent a message 2000 miles across the Atlantic.
Available since: Wed 20 Mar 2013
This clip is from
3/4 The stories behind the electric telegraph, the telephone and wireless communication.
First broadcast: 20 Mar 2013