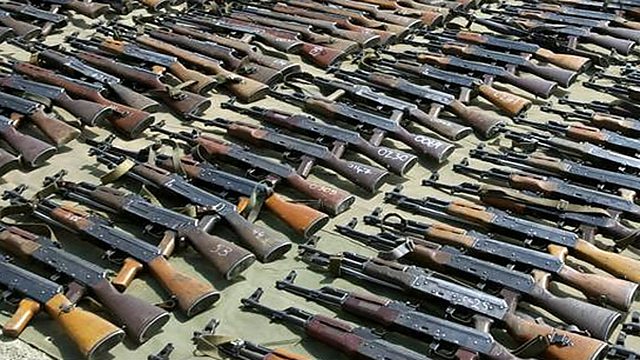 Weapons and the media
Listen in pop-out player
A fresh look at the week's global news from across the World Service's 27 language sections, with presenter David Amanor.
WEAPONS AND THE MEDIA
What separates an M16 from an AK47? BBC Editor Olexiy Solohubenko and Rafid Jaboori of BBC Arabic unpick the language of weaponry
FOOTBALL CHECHEN STYLE
As Grozny stadium hosts the Russian Football Cup Final, the Fifth Floor's Natia Abramia looks into what the game means for Chechnya and its leader
BEING AN ARAB JEW
What does it mean to be a Mizrahim - an Arab Jew? BBC Arabic's Omar Abdel-Razek has been trying to unravel a tricky question of identity
COLOMBIAN BURIAL
Arturo Wallace of BBC Mundo meets a Colombian man who for the past ten years has been fishing bodies out of the river near his home, victims of the violent struggle waged upstream.
NEW RIO GALLERY
Conflict in art, an exhibition at Rio's newest gallery has had more than 24,000 visitors. BBC Africa's Manuel Toledo was one of them.
Image: An assortment of AK 47s at a military base
Credit: AP Photo/Richard Lewis
Last on