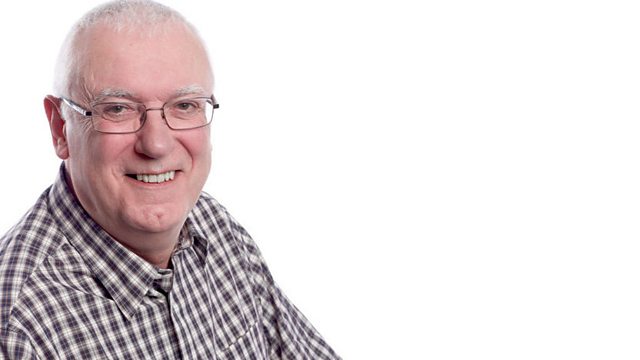 The Cartridge Years: 1975, 1990 and 2000
This week, Richard plays the big songs and has the local headlines from the May of 1975, 1990 and 2000.
Plus tracks from his featured album of the week, James Blunt's Back to Bedlam.
And Richard highlights some of the lighter stories of the week that you may have missed. It's the perfect way to spend a Sunday afternoon.
There is a choice of listening this Sunday afternoon. You can hear ball by ball cricket commentary on 999 and 1359AM as Hampshire take on Durham in the YB 40 competition. And from 1530, there's full match commentary of Southampton against Stoke City on 96.1FM.
Last on
May 1975
An IRA hunger striker died in Parkhurst prison.
Health Inspectors said catering conditions on liner Ocean Monarch were 'apalling'.
South parade Pier in Southsea was damaged by fire.
Christchurch Folk festival was taking place.
A youngster died in a house fire in Weymouth.
Tanker drivers were demonstrating outside the law courts in Southampton after colleagues were accused of stealing fuel from Fawley.
Thousands of gallons of petrol leaked into the River Hamble.
The D-Day exhibition opened at Carisbrook Castle.
HRH The Queen Mother was in Southampton to see the liner Northern Star.
The Cowes floating bridge ran aground.
14 student teachers from Winchester had to be rescued after a canoeing expedition in The Solent.
Two girls set a record for sailing from Cowes to New York - knocking 10 days off the previous record.
BA predicted running five Concordes would result in a £25 million loss.
Nearly 2,000 nurses march through Bristol in support of immediate pay award.
There was an explosion at chemical works at Flixborough near Scunthorpe, killing 28.
Petrol rationing was introduced in Scotland due to industrial action at a BP refinery.
The Rugby Lions were on tour in South Africa.
Comedian Spike Milligan was given conditional discharge after pleading guilty to causing bodily harm to boy who trespassed in his garden.
Cyclists competing in the milk race left Brighton.
American secretary of state Dr Henry Kissinger returned to Washington after achieving a Middle East ceasefire.
May 1990
The inventor of the Hovercraft, Sir Christopher Cockerell officially named the latest addition to the Portsmouth to Isle of Wight hovercraft fleet- the new 100 seater Freedom 90.
Southampton Eastleigh Airport was given the all clear for substantial development.
The police announced a new measure to try to prevent trouble from hooligans travelling to the World Cup in Italy, following clashes in Bournemouth.
The Whitbread Round The World Yacht Race ended in Southampton.
Royal marines invaded the beach at Swanage to raise funds for a new lifeboat to replace the standby vessel currently on loan.
British rail apologised to thousands of passengers who were delayed for hours when a London commuter train broke down in the New Forest.
Hampshire County Council put beef back on Isle Of Wight school menus.
A new passenger service, The Cowes Express was launched, offering cheaper fares for those crossing the Solent.
4000 people on the Isle of Wight were sent summonses for refusing to pay their poll tax.
People in the New Forest were being warned of tick bites which could result in them contracting Lyme disease.
BBC Radio One went onto FM in the South.
The England football team set off for the World Cup in Italy.
The French government refused to lift its ban on British beef.
May 2000
Haven Holidays' Seaview park at Preston near Weymouth was completely destroyed by fire.
A woman was found murdered at a dog kennels in Chale Green on the Isle of Wight.
Thirteen year old Daniel Beveridge from Stubbington was killed when he was hit by a hydraulic jack which was sticking out from a moving lorry.
A former national windsurfing champion sued Poole Borough Council£135,000 at the High Court after he fell beneath the wheels of a moving dustcart. At the time of the accident he was working as a temporary dustman.
Police were searching for a woman who tried to snatch a baby from a push chair in Gosport.
An investigation was underway after five people were hurt on a fairground ride in Wickham.
Cabinet Minister Mo Mowlem was in Bournemouth, opening a centre to support teenage drug users.
A group of 50 children rioted inside a Gosport warehouse, which was being used to store.
Two hockey teams were entered into the Guinness book of records after playing non stop for 18 hours.
HM Queen visited HMS Sultan in Gosport.
Hampshire shipbuilder Vosper Thorneycroft bought aircraft maintanence and equipment company Bombardier Security Systems for £30M.
Radipole County First School became one of the first schools int eh country to have it's wildlife area given statutory local nature reserve status.
The Government suffered a defeat in the Lords over war widows' pensions. Peers voted by a majority of 26 to allow widows to keep receiving their pensions even if they remarry,
The Millennium Dome was handed a £29m Lottery lifeline. Taking the total grants to £530M.
Prime Minister Tony Blair and his wife Cherie had a baby boy 'Leo'
British Actor Sir John Gielgud died at the age of 96.