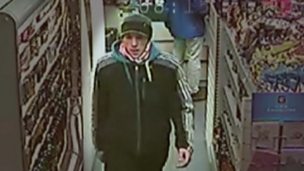 Bristol pensioner robbery
Duration: 01:31
Date and time of Offence: 09:15 Sunday 3 February 2013
Location: Near to Avonvale Road, Bristol
Police service: Avon and Somerset Constabulary
Incident room number: 0117 9455858

Summary of the offence:

Inside a Costcutter store on Avonvale Road in the Bristol just after 09:00 on Sunday 3rd February 2013.

A man in a hat wearing a distinctive black top, turquoise hoodie and scarf walks in and has a look around.

After a few minutes he leaves without buying anything.

A few moments later a pensioner - who has to use a trolley to help him walk - comes in to the shop – and is followed by the man in the hat.

While inside the elderly man collects his pension for the month as well as a buying a newspaper.

While he pays, the man in the hat loiters outside the shop – seemingly waiting for the pensioner to leave - covering his face with his scarf and hoodie as he does.

The older man then makes his way home – followed by the man in the hat – who he unwittingly lets through the flats' security gate.

The man in the hat hangs around the building's entrance while the pensioner lets himself in – and is again able to sneak in while the door is open.

Once inside the building the pair get into the lift. The man in the hat, whose scarf is now pulled across his face, demands money from the terrified old man.

When the doors open the attacker blocks the victim's path and then assaults him – throwing him around the inside of the lift before grabbing his wallet and fleeing down the stairs.

It was a despicable and cowardly attack on a frail old man.
Available since: Mon 29 Apr 2013
This clip is from
A reconstruction of the shocking attack on 29-year-old father of three Gary Hayward.
First broadcast: 29 Apr 2013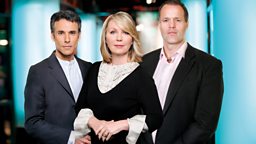 Featured in...
Contact us if you can provide information about anyone caught on camera in these clips.