Does Finance Have to be Invisible?
What would it take to fix, rather than just patch up, the underlying flaws in our banking system? Perhaps it is time for some unorthodox approaches, viewing the problem through the lens of an artist, or re-thinking basic questions, for instance, what money actually is. Joining Bridget Kendall are artist and film-maker Zachary Formwalt, bond trader and economic historian Felix Martin, and Stanford University's professor of Finance and Economics, Anat Admati.
(Photo: In Place of Capital, 2009, production still © Zachary Formwalt)
Last on
Mon 20 May 2013
02:06

GMT
Zachary Formwalt
Artist and film-maker Zachary Formwalt is trying to visualise something that is very hard to transform into pictures, the world of finance. For its smooth functioning, banking involves a degree of necessary invisibility: we only notice finance when it stops working properly. And with the advent of electronic banking and share-trading, even the symbols of the money-world, such as the new Shenzen Stock Exchange, the subject of Zachary's Unsupported Transit, are becoming obsolete.
Zachary Formwalt unsupported transit, 2011, video still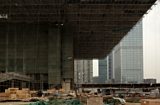 Felix Martin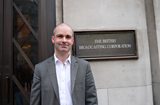 Bond trader and economic historian Felix Martin outlines why the emergency measures to bail out banks in 2008 have dangerously blurred the line between private risk and public responsibility. In his latest book he argues that to really understand what happened in the recent crisis, and how to prevent the next one, we have to go back to the Great Monetary Settlement of 1694.
Anat Admati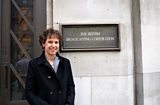 Anat Admati, Professor of Finance and Economics at the Graduate School of Business at Stanford University suggests that we can have a financial system that works much better for the economy than the current one, without sacrificing anything. But to achieve this requires politicians and regulators to insist that banks and other financial institutions rely much less on borrowing to fund their future investments.
60 second idea
Anat Admati suggests that we re-design socks. They should be constructed to suit the individual's pattern of toes. Some people's feet go significantly down in size and length from big toe to little one, but most socks seem to have a straight toe line. Other people's second toe is the longest. Maybe that's why we often get holes at the big or second toe shortly after buying socks? So let's end the 'one-sock-fits-all' mentality and embrace sock customisation!
Comments on the programme
Anat Admati asked a question which used to bother me too. It's true that sock manufacturers maximise profits by making their socks in a very limited number of sizes. Because they're stretchy, they're supposed to fit everybody. Just your bad luck if you're an in-between size. The answer is to knit your own! There is nothing better than a pair of custom-made cotton or wool socks on your feet. And making a pair is a quick job if you know how to knit. There are lots of instructions online. Knitting is a wonderfully calming activity in itself, but if the thought of all those needles is daunting, find someone to knit them for you. The world is full of compulsive sock knitters.
Jo Bradley
Pajaro Dunes after the 2008 Bank Debacle
by Catherine Diamond 
I collected dollars on the beach,
freshly minted from the sea.
The screeching gulls did not mind the theft
for they were hunting in the sand,
and knew a crab in the beak
was worth more than all the money in the land.
Finding dollars flat upon the shore,
who would have thought they spent their lives upright
as honest folk on the sea's soft floor?
Like hand-forged coins of old,
their imperfect circles pounded by the surf
were stamped with a five-petal flower,
the currency of mermaids all round the earth.
I would rather have my pocket full of shells
than all the silver and paper bills
churned out in ever greater number
till no one knows their worth,
despite abacus, calculators, and CEOs
and accounts stuffed with zeros to the gills.
For the sea is a richer bank
than any men can devise,
and we would do better to invest
in those munificent tides.
In Next Week's Programme
Storytelling: it has always been a way to entertain and to teach but has it now also become a tool of conflict resolution? With Afghan writer and carpet-designer Qais Akbar Omar,  cognitive neuroscientist Emile Bruneau and award-winning producer and screenwriter John Yorke.