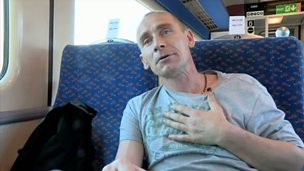 Mick Norman leaves prison
Duration: 03:06
Mick Norman leaves prison and says that this time he didn't enjoy his experience in jail, and now he's decided he doesn't want to come back to jail any longer.
We follow him on a train journey to Stratford, where he take us through Stratford shopping centre talking about the life of a shoplifter.
This clip is from
2/3 This episode follows a group of repeat offenders from Holloway and Pentonville prisons.
First broadcast: 22 Apr 2013