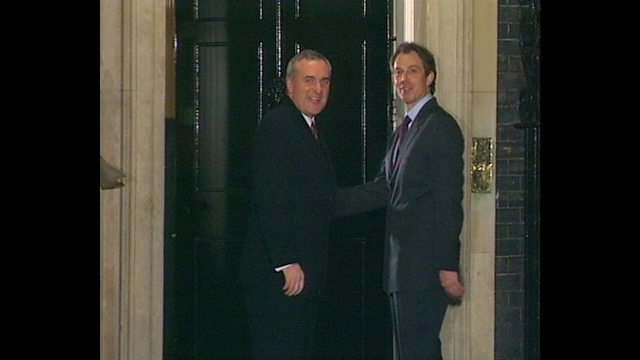 Key stages leading to Good Friday Agreement
After nearly two years of talks, agreement was finally reached in Northern Ireland on Good Friday, 1998. The BBC's political editor Robin Oakley looks at the key stages that led to the Good Friday Agreement. The Downing Street Declaration in December 1993 gave hope for an end to the conflict in Northern Ireland, but was only the beginning of a long process. Paramilitary ceasefires in 1994 led to inclusive talks including their political representatives, but the ending of the IRA ceasefire in 1996 stalled progress. Tony Blair's new Labour government restored momentum to the search for a settlement in 1997, with talks restarting after the restoration of the IRA ceasefire. By April 1998, agreement was reached.
Featured in...
The Good Friday Agreement in 1998 signalled an end to the Troubles in Northern Ireland.