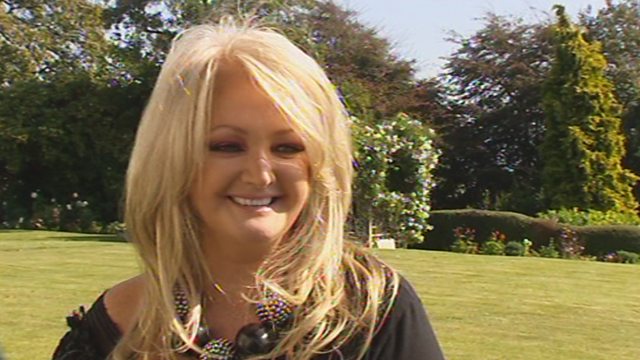 Bonnie Tyler at home with Only Men Aloud
Bonnie Tyler on the song that stormed the charts in 1983, re-records Total Eclipse of the Heart with Only Men Aloud in 2009.
Bonnie Tyler talks about the new version of her 1983 hit song Total Eclipse of the Heart with Only Men Aloud!, winners of the BBC's Last Choir Standing.
The original song, which sold more than six million copies, went to number one in the UK, USA, the Irish Republic, Australia, New Zealand and Canada.
It made Swansea born Bonnie Tyler the first Welsh artist to reach the top of the US charts, beating both Tom Jones and Dame Shirley Bassey. The singer also released a bilingual version of the song in 2004 in France, dueting with singer Kareen Antonn, which reached number one.
Bonnie Tyler was born Gaynor Hopkins on 8 June 1951 in Skewen, West Glamorgan to a family of three sisters and two brothers. Her father, Glin Hopkins, worked in a coal mine and her mother, Elsie Hopkins (an opera lover), shared her love for music with her children, and was known to have been part of the local church choir. Her first hit single, "Lost in France" reached the top ten on the UK Singles chart in 1976 and she was nominated for Best British Female Newcomer at the 1977 Brit Awards. Later the Welsh singer underwent an operation to remove nodules nodules from her vocal cords which left her with a distinctively husky voice. However, this did not affect her career and her 1977 single "It's a Heartache" became a hit in both Europe and North America.
In the 1980s, Tyler worked with songwriter Jim Steinman, and she gained further international success with her number one hit "Total Eclipse of the Heart" in 1983. Steinman also wrote Tyler's last major British success, "Holding out for a Hero" which was featured on the 'Footloose' film soundtrack in 1984. Tyler was nominated for three Grammy Awards in 1984, and was twice nominated for the Brit Award for Best British Female Artist in 1984 and 1986.