A Route 66 of the Future
At the start of a special six part series on travel and transport - real and virtual - Click takes to the road to 'road test' some of the new technologies and improved connectivity that aim to improve our lives.
We spend much of our lives on roads but they're often the least intelligent aspects of modern life, with arterial roads so clogged that at times: if an accident happens, far from sending an ambulance they might just as well have sent a hearse.
Looking to the future of transport, from smart highways to high-tech trains, Click hears from experts and tries out some of the latest technologies aimed at getting more and more of us, further and further. It's a trip that will take the programme from Sao Paolo to Venice and from the Glasgow to Nairobi.
Gareth Mitchell starts the series exploring the ideas behind a smart highway in the Netherlands and gets behind the steering wheel of a hydrogen fuel cell powered car at the R&D labs of Hyundai in South Korea.
Last on
Daan Roosegaarde of Studio Roosegaarde with Gareth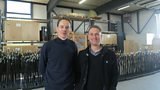 Gareth with Hans Goris of Heijmans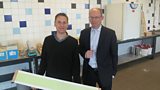 Dr Byung Ki Ahn with Gareth and the hydrogen fuel cell SUV