Jody Williams Nobel Prize winner
Jody Williams won the Peace Prize in 1997 for her work to ban landmines. Matthew Bannister finds out about her life, how she became such a successful campaigner and what she is working on now.
In the heart of Kabul is the surprising sight of a skate-park where young Afghans are learning to skateboard. It's the brainchild of Oliver Percovich, an Australian who turned up in 2007 looking for work, bringing his skateboard with him. A skateboarding foreigner on the streets of Kabul makes an impression, and before long, the local children wanted to know how to do it too. And that was the beginning of Skateistan, a place where children can skate, and get an education, irrespective of wealth or tribe. Matthew speaks to Oliver and to Noorzai Ibrahim, who is now the lead Skateistan instructor.
Bernardo Bertolucci is famous for his films Last Tango in Paris and the Last Emperor. But a serious back injury left him using a wheelchair and he feared his career was over. His new film, Me and You, proves that isn't the case. He talks about coping with his disability, and how it has changed his film making.
And following the theme of unusual weddings we hear from Outlook listeners Michael Lowrey and C Kay Hinchliffe on their sci-fi wedding.
Jody Williams photo by Micheline Pelletier.
Last on
Thu 25 Apr 2013
02:05

GMT
Skateistan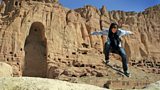 A young girl at the skate-park in Kabul.
Oliver Percovich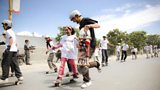 with young Afghans learning to skateboard in Kabul.