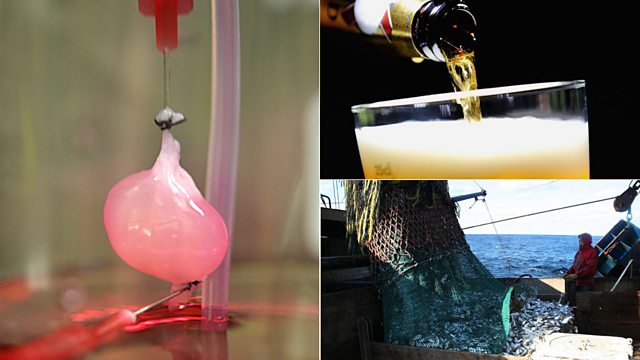 Scientists make 'laboratory-grown' kidney, Russia alcohol crackdown, Stopping fish becoming extinct
Scientists make 'laboratory-grown' kidney
Globally, at least 200,000 people are on waiting lists for replacement kidneys. Now a US team have taken the first steps towards creating usable artificial kidneys. Prof Martin Birchall, University College London, explains that a kidney "grown" in the laboratory has been transplanted into animals and started to produce urine. BBC Health and science reporter James Gallagher joins us to discuss this development.
Iran earthquake
The most powerful earthquake in Iran for half a century happened this week. More than 60 times the energy was released compared to the one nearby ten years ago which destroyed much of the city of Bam, killing 26,000 people. Yet so far the death toll from Tuesday's earthquake is considerably lower. To explain this and more Dr Roger Musson from the British Geological Survey joins Quentin Cooper.
Robot wars
Prof Noel Sharkey fell in love with artificial intelligence in the 1980s, celebrated when he programmed his first robot to move in a straight line down the corridor and, for many years, judged Robot Wars on TV. Now, as using drones in real-life robot wars becomes a reality, Noel explains why he thinks AI is a dangerous dream.
3-D printed house
In a short story by Jorge Luis Borges a fastidious cartographer begins to unfold an enormous map of a region which he has drawn to the exact 1:1 dimensions of that region. Borges's story comes to mind when you stand in front of the giant 3-D printer in Amsterdam that is going to print a house. The KamerMaker 3-D printer is fashioned from the carcass of a shipping container and is six metres tall. Gareth Mitchell travels to Amsterdam to interview the DUS architects behind this project, Hedwig Heinsman and Hans Vermeulen.
Photo Credits: 1. Ott Lab, Center for Regenerative Medicine, Massachusetts General Hospital. 2. AFP/Getty Images. 3. Courtesy of John Manderson
Last on
Sun 21 Apr 2013
14:05

GMT