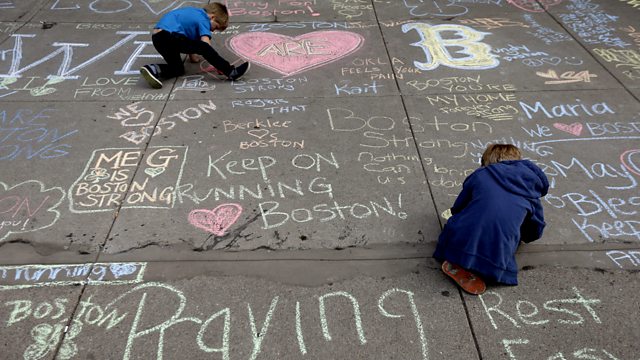 Reporting the Aftermath
Listen in pop-out player
A fresh look at the week's global news from across the World Service's 27 language sections, with presenter David Amanor.
THE AFTERMATH
This week has seen bomb attacks in Mogadishu, Baghdad and the Boston marathon. How do journalists on the scene deal with the challenges of covering acts of violence on location? With Bahman Kalbasi in Boston, Zubair Ahmed in Mumbai, and Rafid Jaboori in Baghdad.
SWINGING JUBA
In South Sudan, BBC Africa's Nyambura Wambugu has been discovering the nightlife growing beneath the fear on Juba's city streets.
ARTS DAILY: BOLLYWOOD AND THE SOVIETS
Why did Soviet central Asia succumb to the charms of Hindi cinema? Rustam Qobil, Firuz Rahimi, Priyath Liyanage, Mirza Waheed and Famil Ismailov reveal their love for Raj Kapoor.
ONLINE GREATEST HITS
BBC Brasil's Thomas Pappon gives the lowdown on the big-hitting stories across the World Service language sites this week, including;
MY HOME: ALEXANDRIA
Middle East editor Shaimaa Khalil introduces the Fifth Floor to her home town and to her granny.
THE BIG BELLY CRICKET CLUB
BBC Islamabad has a cricket team that they affectionately call The Big Belly Cricket Club. They're dedicated but not exactly successful - so far this season they have lost every match. Zaheer Babar is on the crease.
Last on
Sat 20 Apr 2013
02:05

GMT