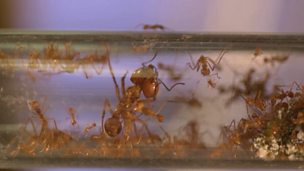 Why are ants different sizes?
Duration: 04:19
A leafcutter ant colony from Trinidad has been rescued and re-housed in a giant manmade nest in the UK allowing an in-depth study into their normally hidden world. It's the first time a manmade colony has been built on this scale and Professor Adam Hart gives four primary school scientists a tour.

The young scientists are keen to find out why ants are different sizes. Dr George McGavin explains how the ant colony is organised into different types of ants, known as castes. Each castes is a different shape and size and has a special job to do. The soldier ants are big with huge mandibles that are used for defending the nest and carrying large objects. The smaller media ants collect leaves and take them back to the colony. The smallest ants, called minima, use the leaves brought back to the colony to farm fungus. Minima ants are the most numerous, so they are also tasked with looking after the young in the colony. The colony is very organised and each caste of ant has its own special job so that the ant community can survive.

Back in the lab, the young scientists focus on the ants in their own colony in more detail, by sketching them. They note the characteristics of an insect, including three different parts of the body: the head, thorax (which has the 6 legs) and abdomen.
Available since: Tue 2 Apr 2013
This clip is from
Professor Adam Hart explores the underground world of a leaf cutter ant colony.
First broadcast: 26 Mar 2013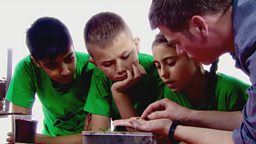 More clips from Life on Planet Ant - Learning Zone