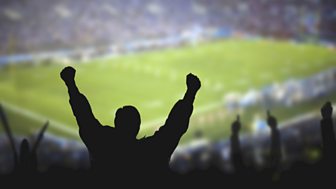 Sportshour
Shining a light on the world's sport stories and issues. Sportshour draws on the expertise of our sport correspondents around the world, and is presented by Caroline Barker.
Hear how a group of brave women are playing rugby in their fight against cancer.

Ben Felten aims to break the world record for the fastest motorcycle ridden blindfolded.

Softball player Monica Abbott reveals how she landed a landmark million dollar deal.

Olympic champion Simone Biles on the importance of role models & the definition of beauty.

Caroline Barker visits NASA's Johnson Space Center to speak to Leland Melvin.

After trying to commit suicide, Francesca Brown found an escape through football.

We visit San Quentin Prison to find out how tennis is helping break race barriers

Why Detroit Lion DeAndre Levy campaigns against violence and to test forgotten rape kits

Why many Premier League footballers simply can't cope with the transition to retirement

How Olympian Suzy Favor Hamilton went from Olympic athlete to Las Vegas call girl

How Australia's Carol Cooke was reunited with her stolen Paralympic gold medals.

Meet Kevin Walker, top flight footballer with Djurgardens and winner of Swedish Pop Idol!

Has reporting of the Kaepernick story opened a new debate about race in US sports media?
Presenter Caroline Barker