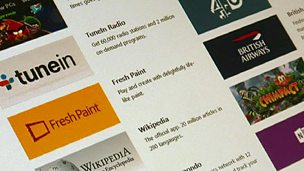 Tech News: Battle of the apps
Duration: 01:38
Microsoft takes on Apple and Google with cash incentives to developers to boost its app offering.

And thieves using 120,000 compromised home computers have been syphoning $6 million-a-month out of advertisers.

These and other tech stories from Richard Taylor.
This clip is from
The team meets digitally generated actresses and watch interactive documentaries.
First broadcast: 23 Mar 2013