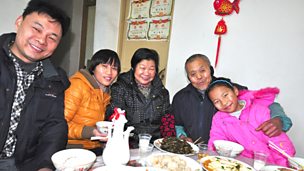 A child led introduction to Sandouping in China (KS3)
Duration: 07:42
A child led introduction to Sandouping in Hubei province, China. Li Memgke lives near Sandouping in the shadow of the Three Gorges Dam, very close to the Yangtze river. Her family had to move here when the dam was built because their home was in the path of the new construction. The dam was built to protect parts of China from flooding and to harness the river Yangtze's power to generate electricity.

It lies in the Gorge area of China, famous for its beautiful peaks and picturesque stretches of river. Memgke lives with her grandparents, as both her parents have had to travel away for work. They spend the whole year working in Guangdong province, over a 20-hour drive away. Memgke is preparing for their return so that the whole family can celebrate Spring Festival (Chinese New Year) together. She goes into town with her grandfather to buy Chinese lanterns, decorations and fireworks and explains that red is the traditional colour for this celebration.

Once home, they prepare a Chinese feast and collect vegetables from their vegetable patch on the slopes of the hills near their house. The food is traditional and there are many dishes. When her parents arrive they sit down together and eat, then let off Chinese fire crackers and watch the spectacular firework displays from the roof of their house.
Available since: Thu 7 Mar 2013
This clip is from
2/2 The geography and culture of China, as seen through the eyes of five local children.
First broadcast: 07 Mar 2013