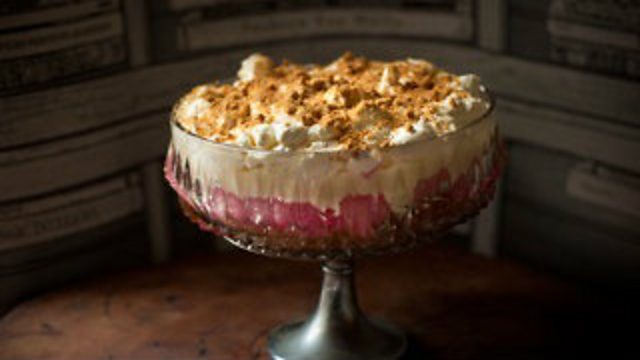 Food Friday: Boozy Rhubarb and Ginger Trifle
Forced rhubarb from the Yorkshire Triangle is in the shops right now, its young and quite tender but the sourness will depend on your variety so vary how much sugar you use to your own taste. You don't have to add the booze and if you're not a fan of rum then Amaretto works really well, you could also substitute the ginger biscuits for amaretti if you have them.
This dish works best when eaten straight away so you can make the rhubarb compote and whip the cream in advance then throw it together just before you dig in if you have people round for tea.
Ingredients:
350g fresh rhubarb, chopped into 2cm pieces
8 heaped tblsp vanilla sugar (or regular caster sugar and add 1 capful vanilla extract)
200ml water (roughly)
1 x 250 loaf Jamaican ginger cake
50ml spiced rum (if using)
150g ginger biscuits
1 x 500g pot fresh custard
1 x 300ml whipping cream
2 tblsp stem ginger syrup
Method:
1. Put your rhubarb, sugar and water in a saucepan and heat gently until the fruit has softened. You can add more sugar and water if you feel it needs it. Then leave to cool.
2. Slice your cake and arrange the pieces to cover the bottom of your trifle serving bowl, pour over the rum. Spoon over the cold rhubarb mixture.
3. Bash the biscuits so they are crumbled but still have chunks of biscuit and arrange half over the rhubarb.
4. Cover with a layer of cold custard.
5. Whip the cream whilst adding the ginger syrup, you want it reasonably firm so it can hold the topping, then carefully pile it on top of the custard layer then finally top with the remaining crushed biscuits.
6. Eat straight away.
Recipe and photography by Hazel Paterson