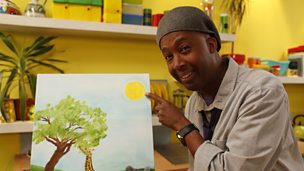 The number 1
Duration: 05:07
As Rodd paints his picture he realises there is only one sun, an elephant has only one trunk and a giraffe has only one neck. Rodd invites the children to think about the parts of their body they have only one of, and to move them. The children then help Rodd find the number one on his number shelf. Using a large picture of the rhyme 'Hey, diddle, diddle', he challenges the children to think of something the rhyme animals have only one of. Appearing as a dog with a long tail, Rodd sings the Number 1 song and demonstrates how to write the number in the air.
Available since: Tue 13 Mar 2012
This clip is from
Rodd Christensen shows viewers how to play with and recognise the numbers 1 to 10.
First broadcast: 13 Mar 2012