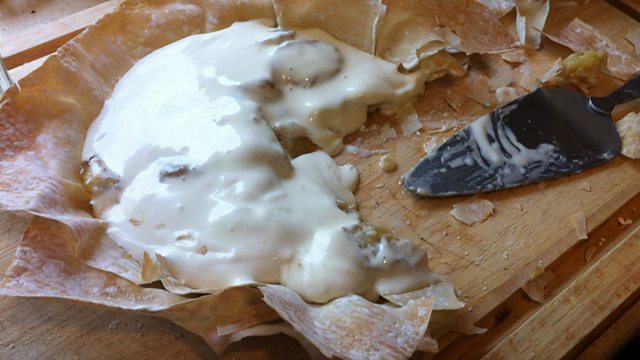 Food Friday: Caramelised Bananas & Vanilla Cream Tart with Pina Colada Sauce
An elegant and creamy, boozy-filo pudding - perfect for a freezing Friday evening.
Ingredients
5 Leaves of filo pastry
1-2 Ripe bananas
3oz Light soft cheese
3 fl oz Double cream
1/2 (Half) tsp Vanilla extract
1 1/2oz Brown sugar
1oz Butter
3tbsp Pina Colada extra jam
Method
1. Line a 7cm tart tin with the filo pastry and bake for 7-10 minutes at 190 degrees centigrade. Once cooked, remove from the oven and allow to cool.
2. Meanwhile, beat the cream, soft cheese and vanilla extract until mixed and smooth.
3. Peel and slice the bananas diagonally and caramelise in a non-stick pan with the butter and brown sugar. Once soft, allow to cool slightly and place in the filo pastry case.
4. Using the same pan, add the jam and melt over a medium heat, simmering for abaout a minute.
5. Spoon the cream onto the bananas.
6. Cut into even slices and serve with the pina colada sauce.
Recipe by Sacha Gittins