Japan's Nuclear Zone Barber
The Japanese barber Sunao Kato has re-opened his shop inside the exclusion zone around the Fukushima nuclear plant, despite there being very few customers. He tells Matthew why the experience has brought him closer to his wife.
Also, we hear from the Zimbabwean refugee William Kandowe who has started a school for orphans in South Africa.
And campaigner Miranda Gibson explains why she has spent the last 15 months living in the top of a giant eucalyptus tree in the Tasmanian Forest.
Picture: house in Odaka, Sunao Kato's town, left empty after the 2011 earthquake and tsunami.
Pictuer credit: Athit Perawongmetha/Getty Images
Last on
Wed 13 Mar 2013
12:05

GMT
Miranda Gibson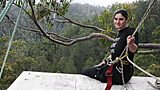 This is Miranda Gibson in the tree that was her home for 15 months. She lived there to protest against threats to the Tasmanian forest, but came down last week because of a bush fire.