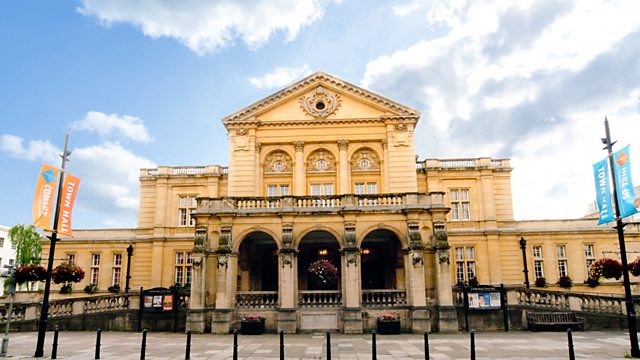 Fiona Bruce and the experts gather in a packed Cheltenham Town Hall as visitors arrive for another busy day of evaluations. Objects on show include a curious table from the nearby racecourse, complete with carved horse hooves for legs, some fascinating examples of espionage microdots used by the Norwegian Resistance in World War II, and a group of bargain boot buys turn up trumps for the owner.
Last on
More about silver plates..
At Cheltenham Town Hall the Basic Better Best test came from Alastair Dickenson. He challenged Fiona and the visitors to work out which of these silver plates is the Basic and worth £1,000, which is the Better at £8,000 and which the best and worth a whopping £100,000. 
So which is which?
BASIC – This was made in 1740 by George Hindmarsh. It bears the rather grand looking coat of arms of the Childs family of Osterley Park and would have been part of a full dining set of perhaps a dozen plates. Of course we're now used to eating our dinner off ceramic plates but that wasn't always the case. And you can see on this plate the knife marks from where it's been well used – this is something a collector would want to see. However, as this is a single piece and not with the full set it's not as easily saleable so this would be worth about £1000.
BETTER – This plate was produced in 1692 during the reign of William & Mary.  Plates during this period were lighter and much simple, largely because Silver was more scarce at this time (just 40 years earlier the country was in the throes of a Civil War and silver was melted down to help fund it). This plate is hallmarked although we don't know the maker. It would be sought after by collectors and is valued at £8,000.
BEST – If you look at the shape of it it's not actually a dinner plate at all, it's slightly deeper than the others and was made to be a spice dish. Once again would have been part of a bigger set - we know for a fact that this dish was part of a set of around 30 pieces that were made during the reign of Elizabeth I and are universally known as The Armada Service. This is the earliest known hallmarked silver and is an extremely rare survivor. To own one you would have to pay in the region of £100,000.
More about 'The Armada Service'…
Named 'The Armada Service' because it is commonly believed to have been made from New World silver captured from ships during the Spanish Armada (1588). However there is no evidence to support this and in fact the service dates from around 1581 which is years before the Anglo-Spanish war even began in 1585.
What we do know is that the service bears the crest of a man called Sir Christopher Harris. Harris worked for Sir Walter Raleigh as an Admiralty official during the war and it was at this time that he acquired the service. During the Civil War 50 years later, the Harris family hid the service so that it wasn't lost. It remained hidden until a farm worker uncovered the stash nearly 200 years later! It's thought that there were over 30 pieces in the service - 26 are now at the British Museum, 2 are in the hands of a private collector, and the rest are still unknown.
Hallmarks & Maker's Marks
Hallmarks and maker's marks are a series of markings on precious metals that gives you an indication of metal content and purity, who made it and where. Manufacturers now will go to great lengths to hide the markings so that they are not easily visible. However with older items such as the better and best plates, the markings were displayed on the front in plain sight. They were displayed as a status symbol - a way of demonstrating to people that you could afford to buy precious metals.
Metals are tested and stamped by an Assay Office. Unfortunately the London Assay Office suffered a fire in 1681 and as a result they lost all the records of maker's marks. This means that for most items made before that date, we have no way of identifying the manufacturer.
Did you know?
The Armada Service is so revered that in the past 100 years it has become the most copied silver ever!
 If you have some silver at home that you'd like to know more about, why not come along to an Antiques Roadshow valuation day. A list of dates and venues for 2013 will be available on our Homepage soon.
Credits
| Role | Contributor |
| --- | --- |
| Series Editor | Simon Shaw |
| Presenter | Fiona Bruce |
| Producer | Michele Burgess |