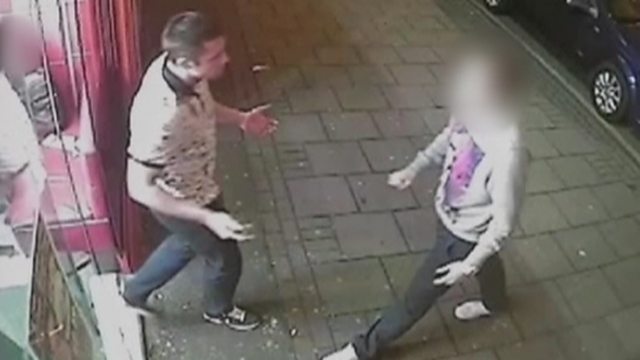 Selly Oak takeaway punch
West Midlands Police
Incident room number : 0121 626 5967
Crimestoppers: 0800 555 111
Time and Date of offence: 1:30am approx, Saturday 25 February 2012
Location: Pizza Land, Bristol Road, Selly Oak, Birmingham
Summary of the offence:
Two men sit eating at one of the tables of the Pizza Land takeaway in Selly Oak in Birmingham during the early hours of Saturday 25 February 2012.
A red headed man - wearing a pale sweatshirt - walks in with his girlfriend.
A few minutes later a row erupts between the man in the distinctive black and white top and the man with red hair.
The argument escalates and eventually spills out onto the street where the man wearing the black and white top suddenly lunges at the victim, punching him full force in the face.
The blow knocked him out and fractured his jaw in two places. The victim is still recovering from his injuries now.
Featured in...
CCTV

—

Crimewatch

Contact us if you can provide information about anyone caught on camera in these clips.