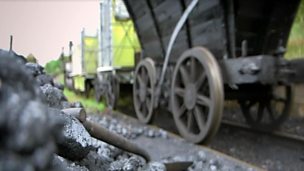 The Stockton and Darlington Railway
Duration: 03:43
In the early 1800s, there was a massive demand for coal as Britain was undergoing an industrial revolution. Coal was needed to fuel the new factories springing up across the country making textiles, metal goods and countless other items. There was plenty of coal, but it was hard to shift from the mines to where it was needed, and demand was exceeding supply. Wagon ways made it easier for a horse to pull bigger loads by cart, but something larger was needed. The great engineer George Stephenson was commissioned to build a truly modern railway, with tracks that were iron and not wood, and cars that were pulled by a locomotive steam engine not horses. Thousands turned out to see the opening of the railway and people seemed to understand that they were witnessing something very important. The line was efficient, it was profitable, and it was new and exciting - this was the future.
Available since: Wed 13 Feb 2013
This clip is from
Dan Snow explores how Britain invented and built the railways.
First broadcast: 13 Feb 2013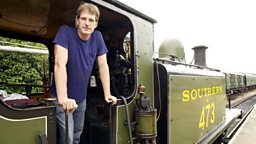 More clips from Locomotion: Dan Snow's History of Railways - Learning Zone