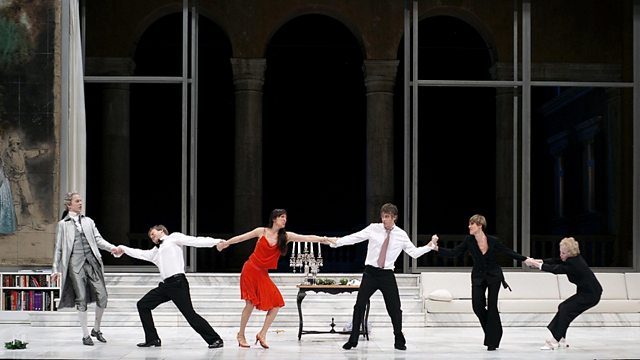 Haneke produces Mozart Opera
Listen in pop-out player
The award winning producer of the film Amour, Michael Haneke, directs Mozart's Cosi fan Tutte at the Teatro Real in Madrid. We hear how his ideas translate to the operatic stage.
Anurag Kashyap
The Indian film director - often compared to Quentin Tarantino - talks about making his epic two-part gangster movie Gangs of Wasseypur and why he included elements of Bollywood in a violent story centred around local mafia families.
Changes to the pop singles charts
Billboard - who compile the US pop music charts, have announced that they will include youtube views in their calculations for chart positions. Is this a good idea?
Alisa Weilerstein
The American cellist talks about recording the Elgar cello concerto with Daniel Barenboim, the first time for him since the iconic recording he made with his wife, Jacquelin Du Pre.
Hava Nagila: The Movie
Documentary director Roberta Grossman discusses her film which investigates the origins and meanings behind the classic Jewish song Hava Nagila.
Stalking
James Lasdun was a lecturer in creative writing who found himself being stalked by a former student. Moving from mild to serious harassment and threats, it's lasted five years now.
Fire In The Blood
Director Dylan Gray joins us to talk about Fire In The Blood, his extraordinary documentary which tells the story of how a small group of activists made cheap antiretroviral drugs available to people with HIV in the third world.
Perunika Trio
Based in London, singing traditional Bulgarian songs, this all-female ensemble's latest CD is full of songs about horses, women, weddings and peacocks and lots of rain!
Image credit: Javier del Real©
Last on