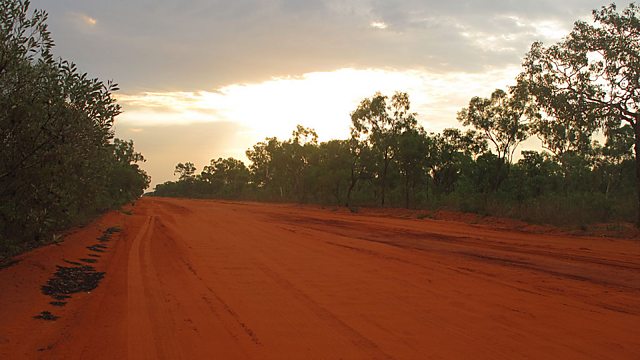 Red Dirt Dreaming - Part One
Listen in pop-out player
Western Australia, larger than Western Europe in size, drives the Australian economy, but the centre of the boom, the heavily mined Pilbara and soon to be exploited Kimberley to the north, are among the last great wildernesses.
The Aboriginal population negotiate constantly for what is called 'Native Title' over their lands, and thus the right to negotiate with mining companies for a share in their wealth.
Before the mining boom this burning vastness was their last line of retreat but now they've been thrust into the front line of global economics and modernity. Some Aboriginal communities have come into many millions of dollars, others have nothing. The bitterness that results splits them apart.
In programme one Neil Trevithick and Kirsti Melville journey across the Kimberley to a pristine promontary called James Price Point 60km north of the small resort town of Broome.
It is here that the State Government has given the go ahead for the construction of a 1km sq onshore LNG (Liquid Natural Gas) plant, and a port for loading tankers with gas for export. The Federal Government in Canberra has yet give its go-ahead. This project encapsulates all of the conflict and complexity of resource extraction versus environment and community. It is seen as the battle which will decide the future of the Kimberley, a future of mining wealth or pristine wilderness and community. And the endgame is close.
(Image: The hallmark of the Kimberley landscape in north-western Australia is the bright red earth and landscape, the result of high iron content in the soil.)
Last on
More episodes
Previous
You are at the first episode
Fifty Women Who Made It Happen