Mali: 'I witnessed Sharia amputation'
The Malian doctor who kept his hospital running after Islamist militants seized power tells us how he was forced to witness a thief having his hand hacked off. When the militants arrived in Timbuktu last year, Dr Ibrahim Maiga made a deal with them. In order to keep his hospital running, he would have to treat the militants and their victims - with no questions asked.
Also the pastor from the slums preaching peace and reconciliation as Kenyans prepare to vote.
And the German man whose best friends are wolves.
Picture: One of the main streets in Timbuktu, Mali.
Last on
Pastor George Odieng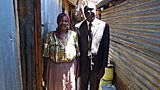 After Kenya's 2007 disputed elections, Pastor George Odieng worked to bring together the Luos and Kikuyus, two of the communities who were at the centre of the violence in the Mathare slum in Nairobi. Kikuyu Philomina Nujeri's house was burnt down, but Pastor George raised funds to help her rebuild it. Philomina tells Outlook how much his help and friendship mean to her.
Picture: Pastor George (r) stands with Philomina Nujeri (l) outside the house for which he raised funds