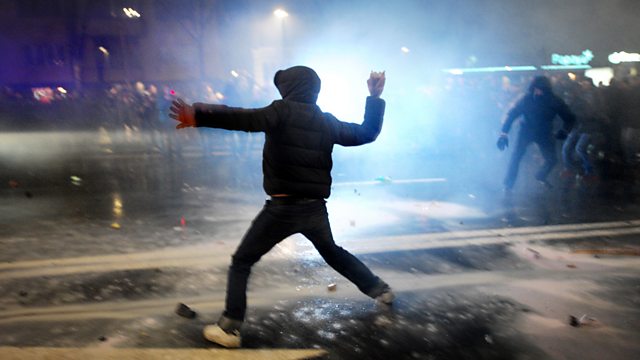 Bulgaria bitten by the eurozone crisis
The government of Bulgaria has quit, following mass protests over rising prices and austerity. We'll hear how economic crisis in the euro area has hit the Bulgarian people hard.
Also in the programme Spain's prime minister outlines his vision for economic recovery - but do Spaniards believe him?
And - it's an environmental experiment on a massive scale. Germany's political parties have agreed to close the country's nuclear power stations, and slash the use of coal, oil and gas.
But can the industrial powerhouse of Europe really keep churning out BMWs and Audis thanks to energy from the wind and the sun? We'll have a special report from Germany and speak to the respected economist Irwin Stelzer.
Plus: as Sony prepares to unveil the latest incarnation of the Playstation...we ask is it already starting to look out of date?
(Photo: A Bulgarian demonstrator throws a rock to riot police during clashes against the government in downtown Sofia on February 19, 2013. Credit: NIKOLAY DOYCHINOV/AFP/Getty Images)
Last on
Wed 20 Feb 2013
22:32

GMT