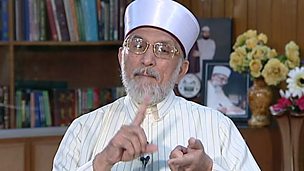 Tahir Ul-Qadri: 'I am against military law'
Duration: 04:53
Populist cleric and anti-corruption campaigner Tahir Ul-Qadri promised a million-man march to Islamabad to provoke a Tahrir Square revolution in Pakistan, but after four days he made a deal with the government.

He told HARDtalk's Zeinab Badawi he rejected allegations he was a tool for the military, saying he was "against martial law... pro-human rights and pro-democracy."

He added that he had achieved the maximum that was possible through peaceful means.
This clip is from
In-depth, hard-hitting interviews with newsworthy personalities.