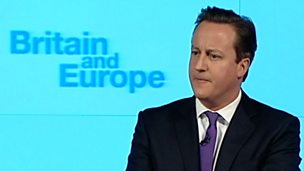 Europe: In or out?
Duration: 01:49
The Prime Minister David Cameron has said the British people must "have their say" on Europe. He has pledged an in/out referendum if the Conservatives win the election.
So what does it all mean for British Asian businesses? And should the PM be looking East to Asia to strengthen business ties and thereby boost local economies here?


Manoj Ladwa is a partner in a company which advises European and UK companies investing into India, and Indian companies looking to invest into Europe. In this extract he speaks to Desi Download about if the focus should be on the EU or Asia? He begins by talking about how the EU question could affect the UK's relationship with countries like India, and the role of British Asian businesses...

Why not have your say on Europe by emailing us at desidownload@bbc.co.uk
Available since: Mon 28 Jan 2013
This clip is from
A pick of the week from BBC Local Radio Asian community programmes.