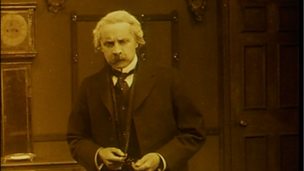 Rediscovered silent film on the life story of David Lloyd George - 1918
Duration: 00:49
From Maurice Elvey's silent biopic made in 1918 'The Life Story of David Lloyd George'.

This long lost silent feature was rediscovered in 1994. The film maps the life of British Prime Minister Lloyd George - 'the Welsh Wizard'- from childhood to the end of the Great War, using actors and hundreds of extras set in studios and on location.

Norman Page is Lloyd George and moves from the intimate settings of his early domestic, school and working life towards the pinnacle of his political career. On his journey from social legislator to war leader, he finds himself in a world of riots, reform and recruitment.

In this excerpt, a procession is seen, with the real Lloyd George in a car. The man sitting opposite him who seems overcome, mopping his face with a handkerchief, is also directing the action - he puts his arm up to stop the procession (before using his handkerchief). He is thought to be the film-maker Maurice Elvey.

The film disappeared for seventy six years before rediscovery by The National Screen and Sound Archive of Wales.
Available since: Mon 28 Jan 2013
This clip is from
Audio and video clips on Welsh History and Heritage from BBC Wales.
Featured in...
Highlights of favourite BBC Wales programmes reflecting the story of Wales and its people.

David Lloyd George audio and video archive.