Did You Know?

An early concept for the hovercraft was evolved by British engineer Sir John Thornycroft in the 1870s. He looked into reducing a ship's drag by introducing a concave hull that allowed for air to pass between the craft and the water. The idea was developed further by Sir Christopher Cockerell, who invented the cross-Channel hovercraft, which first launched in 1959.

Archive

Archive programmes available on iPlayer reflect the broadcast standards and attitudes of their time, which may not accord to some current BBC editorial guidelines. We aim to select programmes which can be shown in their entirety but in some cases edits are required. In these cases, edits are kept to a minimum and are made only for technical reasons.
Credits
Presenter

Heinz Wolff
Participant

Ray Wheeler
Director

Julie Harrup
Producer

Charles Huff
Featured in...
Cracking feats of engineering.
The Great Egg Race Collection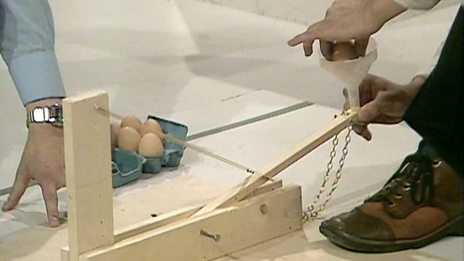 This programme is available online as part of The Great Egg Race Collection