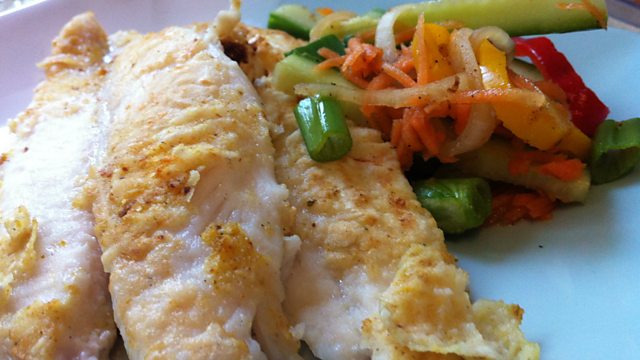 Food Friday: Escabech Fish
A healthy, spicy Caribbean fish recipe, to bring some sunshine into your weekend.
Ingredients
4 Basa fillets
150g plain flour
Salt
Pepper
All purpose seasoning
2 grated carrot
1/4 of a cucumber deseeded and thinly slices length-ways
2 spring onions, sliced
1/2 onion sliced into rings
1/2 red pepper sliced into rings
1/2 yellow pepper sliced into rings
1/2 small scotch bonnet chilli thinly sliced (optional)
200ml rice/white wine vinegar
1/4 tsp pimento
1 tsp brown sugar
8-10 black peppercorns
Low calorie spray oil
1 tbsp chilli and garlic oil
Method
1. Dry fish on a piece of kitchen roll.
2. Add salt, pepper and all purpose seasoning to plain flour and coat fish on both sides.
3. Heat a large frying pan, spray the pan with low calorie oil and fry the fish lightly on both sides. Each side should take no more than 2 minutes.
4. Remove fish from the frying pan and set aside on warm plates.
5. Add chilli and garlic oil to the pan with onions, pimento, sugar and peppercorns and lightly fry.
6. Add scotch bonnet chilli and peppers, soften and reduce the heat.
7. Add the vinegar to the pan and simmer slightly, then remove from heat.
8. Place the grated carrots, cucumber and spring onion into a bowl and pour in the contents of the pan.
9. Stir so that all of the vegetables are coated in the vinegar.
10. Plate up and enjoy.
Recipe by Sacha Gittins