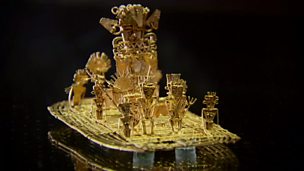 The Golden Raft of the Muisca and the myth of El Dorado
Duration: 02:39
When the Spanish arrived in Muisca territory in the late 1530s, they found that everyone seemed to possess gold objects. Rumours spread far beyond the New World that there was a city of gold in the mountains: the legend of El Dorado was born. But El Dorado was a person, not a place. One Conquistador described a Muiscan chief being covered in gold dust, only to then wash it off in a lake. An exquisite artefact, discovered in a cave near Bogota and now displayed in the city's Museum of Gold, depicts a waterborne ceremony that hints at this version of the El Dorado story.
Available since: Mon 21 Jan 2013
This clip is from
3/4 Through the mountains and jungles of Colombia, Dr Jago Cooper goes in search of El Dorado.
First broadcast: 28 Jan 2013