Improvisation
The magic and mystery of improvisation. If you took piano lessons as a child and were taught to play the classics, the idea of improvising music seems extraordinarily difficult. How do you know what to play next? Celebrated jazz pianist and composer Vijay Iyer lets us into the secret of how he goes about extemporizing and plays live in the studio. Adding their thoughts are young Indian writer Samhita Arni who uses one of India's great epic tales as a basis for her verbal improvisation, and leading London psychoanalyst Stephen Grosz.
Photo: Vijay Iyer improvising on the piano (BBC)
Last on
Sun 10 Feb 2013
02:05

GMT
Vijay Iyer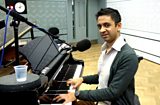 One of the world's leading jazz pianists, Vijay Iyer, says it's time to de-mystify improvisation: the popular image of improvisation in music is that it's somehow created from scratch every time, without prior knowledge. But in fact, in order to  improvise well, and especially if you are playing with other people,  you need to have internalised a lot of musical structures, harmonic progressions and other useful structural constraints first, and only then you can let your imagination go free.
Samhita Arni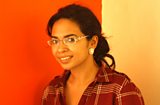 Samhita Arni has been re-writing Indian epics since she was a child. Her children's version of the Mahabharata was published when Samhita was still in her teens and it was followed by Sita's Ramayana, a graphic novel developed in collaboration with Patua artist Moyna Chitra­kar. Her latest variation on the story of Rama's wife Sita is a 'speculative fiction feminist thriller', set in the 21st century. Samhita says that every new generation finds their own way of understanding and re-telling the classics: you take the story and improvise a new take on it, as you do with a jazz standard.
Stephen Grosz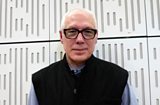 American-born psychoanalyst and author Stephen Grosz has condensed 25 years of case notes into a slim volume in which he examines change and the other side of our everyday need for improvisation. He explains why we hesitate in the face of change and why our resistance to it may often be less about being wedded to the past and more about being afraid to give up the future
60 Second Idea to Change the World
Samhita Arni proposes a haircut lottery: once a year everyone would be given a new haircut, chosen entirely at random, so you'd never know beforehand if you'd end up with long flowing locks or a Mohican. Samhita says that increasingly, people are judged by what they look like, what kind of image they project and hair is a major component in this. So by changing it dramatically, we'd make people around us take a fresh look at us, and it would also make us get used to the idea of change, which so many of us are afraid of.
In Next Week's Programme
We enter the kingdom of ice with polar explorer Poul Christoffersen who has just returned from Antarctica, scientist Mary Albert who studies centuries-old snow,  and photographer Camille Seaman who has been capturing our melting world.