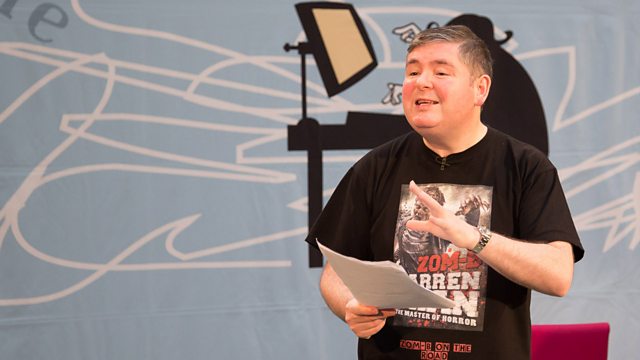 Darren Shan
Master of horror, Darren Shan reads from his latest book and chats about his 'edgy' work.
Let author Darren Shan and his ZOM-B apocalypse grab you!
This Authors Live webcast featured the master of horror Darren Shan. Darren published his first children's book, Cirque du Freak in January 2000. It attracted rave reviews and an ever-growing army of fans hungry to learn more about vampires! His latest project is the 12-book Zom-B series in which his writing has entered a terrifying new world. Edgy, confrontational and punchy, Zom-B brings together all the classic Shan trademarks that have turned him into a global writing superstar.
Credits
| Role | Contributor |
| --- | --- |
| Participant | Darren Shan |
| Presenter | Janice Forsyth |
| Executive Producer | Gerald Strother |
| Producer | Neil Scott |
| Director | Adam Spencer |
| Production Assistant | Irene Bain |
| Vision mixer | Derek Farrell |
| Video Engineer | Jim Noble |
| Graphic Designer | Trudy Shillum |
| Webcaster | Marie Graham |
| Webcaster | Tom Hodgkinson |
| Camera Supervisor | Kenny Newlands |
| Camera Operator | Allen McLaughlin |
| Camera Operator | Simone Smith |
| Sound Supervisor | Jim Fallan |
| Sound Engineer | Derek Wilson |
| Sound Engineer | Crawford Milne |
| Lighting Supervisor | Mick Toher |
| Electrician | Davie Wilson |