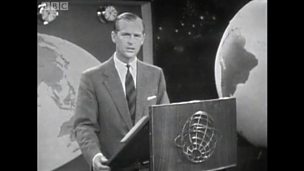 The Restless Sphere: The Story of the International Geophysical Year
Duration: 1:14:19
Prince Philip has had a lifelong interest in conservation, geography and climate change. In this ground breaking live programme broadcast in 1957 he presents a series of short films explaining 18 months of geophysical exploration. Featuring Richard Dimbleby as a commentator, the programme shows how scientists from all over the world took part in an attempt to answer fundamental questions about the world we live in.
Credits
Participant

H.R.H Duke of Ednburgh Prince Philip
Participant

Cyril Hinshelwood
Presenter

Richard Dimbleby
Producer

Anthony Craxton
Producer

Ivan Gilman
Producer

Philip Daly
Producer

Rex Glaser
Director

Tom Millet
Executive Producer

Aubrey E. Singer
This clip is from
Prince Phillip, Duke of Edinburgh tells the story of the International Geophysical Year.
First broadcast: 30 Jun 1957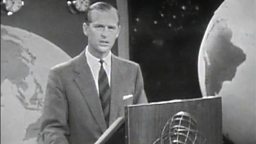 Featured in...
History biography page about Prince Philip, Duke of Edinburgh