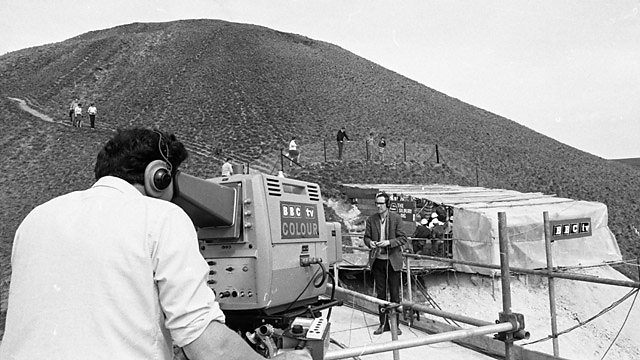 The Last Days of Minos
First transmitted in 1967. Was the legend of the Minotaur inspired by the worship of bulls at Knossos on Crete? Does the volcanic island of Santorini provide clues about the fabled city of Atlantis? Magnus Magnusson investigates through a detailed tour of Knossos and its archaeological finds, which date from 1700 to 1380BC. He also explores the extraordinary life of Sir Arthur Evans, the archaeologist who discovered Knossos and the Minoan civilisation.
Last on
BBC Two
except

East,

South East,

Yorkshire
Did You Know?
While excavating this site, Sir Arthur Evans lived at the nearby Villa Ariadne. At one point during World War II, this villa was the headquarters of a German commander, General Kreipe, prior to his kidnap at the hands of Greek guerrillas, who were assisted by writer and soldier Patrick Leigh Fermor. (The fascinating story of the villa was told by writer and critic Dilys Powell in her book The Villa Ariadne, published in 1973.) The building has seen more peaceful and scholarly activity recently as the Cretan base of the British School of Athens.
Archive
Archive programmes available on iPlayer reflect the broadcast standards and attitudes of their time, which may not accord to some current BBC editorial guidelines. We aim to select programmes which can be shown in their entirety but in some cases edits are required. In these cases, edits are kept to a minimum and are made only for technical reasons.
Featured in...
A look back at a selection of programmes from the archaeology series, Chronicle.