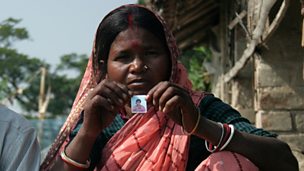 Stolen girls
Duration: 01:46
The UN's children's agency Unicef says the widespread practise of aborting female foetuses and killing babies in India means the country is now missing fifty million girls and women. A BBC World Service investigation has found that it's particularly bad in the northern states of India. For many young men in those areas they are now unable to find a wife because of a shortage. The result is that tens of thousands of Indian girls are being abducted and sold by traffickers every year.


Natalia Antelave carried out the investigation. In this extract she speaks about the latest figures for the number of women and girls going missing, and talks about the experience of meeting one man who sells girls for a living...
Available since: Tue 15 Jan 2013
This clip is from
Asian news from Yorkshire and around the world.