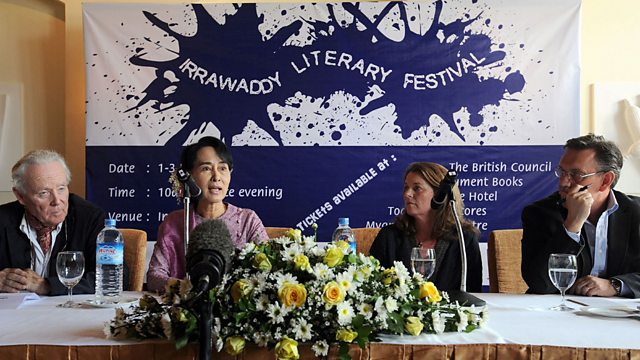 Irrawaddy Literary Festival
Listen in pop-out player
Burma has just held its first ever literary festival, which for a country not known for welcoming either outsiders or debate proved an exciting event. Among the guest writers at the Irrawaddy Literary Festival were Indian Vikram Seth, Burmese surgeon-cum-author Ma Thida and Burmese-American Thant Myint-U.
Eve Stewart, the production designer hotly tipped to pick up an Oscar for recreating 18th-century Paris for Les Miserables shares her behind-the-scenes secrets.
Garth Cartwright was recently in New Orleans to experience the annual Mardi Gras celebrations. He tells us why they are so famous and how Native and African American cultures have mixed.
Image: Aung San Suu Kyi (2nd L) speaks during the media launch of the Irrawaddy Literary Festival. Soe Than WIN/AFP/Getty Images.
Last on
Irrawaddy Literary Festival
Visitors buy books displayed during the Festival in Yangon, Burma. Image: AP Photo/Khin Maung Win.