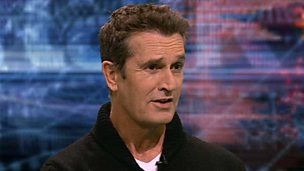 Rupert Everett: My terror of Aids in my younger years
Duration: 03:56
The British actor Rupert Everett says "terror invaded every area" of his life in his early 20s when as a promiscuous gay man he became convinced he had Aids.

He told HARDtalk's Stephen Sackur that he was often "plastered" when he was on stage but his wild behaviour, including prostitution, was an escape from a very conservative upbringing.
This clip is from
HARDtalk speaks to an actor whose life is been flavoured with a twist of melodrama.
First broadcast: 14 Jan 2013