Did You Know?

Juliet Mitchell is Professor of Psychoanalysis and Gender Studies at Jesus College, Cambridge and has written many books on psychoanalysis and feminism. Sally Oppenheim-Barnes is a Conservative Life Peer. In 1983, her son Phillip was elected as an MP and they became the first mother and son to serve in Parliament at the same time.

Archive

Archive programmes available on iPlayer reflect the broadcast standards and attitudes of their time, which may not accord to some current BBC editorial guidelines. We aim to select programmes which can be shown in their entirety but in some cases edits are required. In these cases, edits are kept to a minimum and are made only for technical reasons.
Credits
Presenter

Michael Dean
Participant

Juliet Mitchell
Participant

Sally Oppenheim
Director

Tom Corcoran
Producer

Michael Hill
Featured in...
The campaign for women's rights in the 1970s.
Second Wave Feminism Collection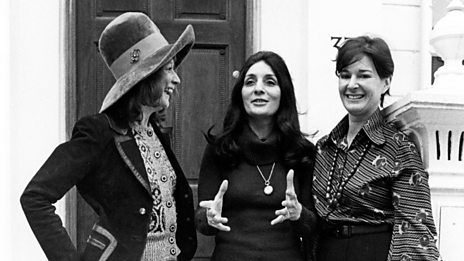 This programme is available online as part of the Second Wave Feminism Collection