B.C. Camplight - Live In Session
Duration: 19:24
B.C. Camplight are live in session for yours and Marc Riley's delectation.
He's one of Philadelphia's most beloved indie artists and now one of Manchester's as he moved across the pond to the UK a year ago.
Having learnt to play the piano at the ripe old age of 4, Brian Christinzio eventually formed a band named B.C. Camplight (and appeared on this here show). After a few years of touring and success he took a detour and started playing with Sharon Van Etten and formed War On Drugs. Now that's what I call impressive.
So now he's come full circle and is joining us for another live studio session. Bring it on - please.
Tracklisting:
- Grim Cinema
- Thieves in Antigua
- Atom Bomb
This clip is from
Second band of the new year and it's a good 'un. BC Camplight is in for your delectation.
First broadcast: 03 Jan 2013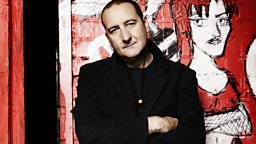 Featured in...
Musicians doing exclusive performances for the BBC.

Watch and listen to the very best music moments brought to you from BBC 6 Music.
More clips from 03/01/2013