Munchi - Guestmix
Duration: 58:27
Munchi from the Netherlands are on mixing duty - expect big house tracks, loads of moombahton and possibly the longest tracklisting of all time!
Tracklisting:
I Love CDLC - Munchi
Brazzers Anthem (Munchi's Its Bangbros Motha***** Remix) - Dillon Francis & Dave Nada
Esta Noche - Munchi
Pero Que Lo Que Mujer - Munchi
Manolo No Coje Esa - Munchi
Dame Coco - Munchi
Quiero Cleren (Munchi's Maless Ni Sabe Holandes Remix) - Keudy De Los Santos
Entragos De Un Hombre Casado - Munchi
Guess Who's Back x F***This (Blend) - Munchi
Dat A$$ - DJ Shaun D
Sandungueo - Munchi
Tempo Got My Back - Munchi
Playero Revive vs Isa Te Dijo (Blend) - Munchi
Krisspy's Anthem - Munchi
Gracias - Munchi
Prayer - Munchi
Pray (Royer's Advice) - Munchi
Waiting At The Soupbox - Munchi
2nd Path - Munchi
Boomer Kuwanger Stage (Mega Man X) - Unknown
Sin Compromiso (Munchi's F*** These B******* Promoters VIP) - Munchi vs Bro Safari
Firepower - Datsik
Nosebleed - Munchi
Smash TV (Munchi's 'Shoryuken' 3Skull Rmx) - Chase & Status
Get A Reload VIP (Munchi's Kalimoxto & Kapsalon Rmx) - Bass Boy
Fake Fred Perry (Munchi Is Muito Random Rmx) - Autodidakt ft Spoek
Carnival Madness (Munchi's Only Beers & Rubbers Remix) - Dogz & Bumps ft Mc Zulu
El Mayimbe - Munchi
Anthony Santos - Munchi
Dame Vida - El Chaval De La Bachata
Tulile Dile Como Es - Munchi
Goon Anthem - Munchi
Puta - Munchi
I-Alarm (Munchi's Back Then Schurende Faze In Holly VIP) - DJ Chuckie & Hardwell
Satisfaction (Naffie Rmx - Munchi's Shoutout To Naffie Part II) - Benny Benassi
Moombah (Afrojack Rmx - Munchi's Shoutout To Naffie VIP) - DJ Chuckie & Silvio Ecomo
Told Ya - Morrison & Isa GT
Sola Fide - Munchi
Repent - Munchi
John 1:12 - Munchi
Dedication - Munchi
Yahaira (Munchi Sabe Porque Son Feka Trap Remix) - Joe Veras
Go (Munchi Is A Thought Criminal Remix) - Professor Angel Dust
Hard In The Paint (Munchi's Deja Tu Vaina Flocka Remix) - Waka Flocka Flame
Felicidade - Comrade vs Cidinho
Symptomless Coma vs. Rap Da Felicidade (Munchi's Detangle And Unlearn VIP) (feat. MC Cidinho Y Doca) - Donny & Current Value
Downfall (Munchi's Guerilla Warfare Remix) - Ufo & Silent Killa
Rotterdam - Munchi
Onderweg (Apology Letter To My Past, Present & Guidance) - Munchi
Oberheim - Kami Kapnobatai
This clip is from
Sweden's Dada Life and Munchi from the Netherlands share mixing duties.
First broadcast: 23 Dec 2012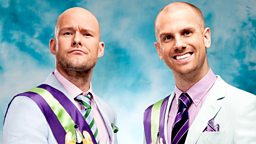 Featured in...
Enjoy the latest mixes, DJ sets and interviews as broadcast on BBC Radio.

Music Highlights from BBC Radio 1Xtra