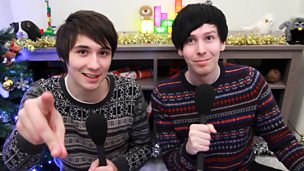 Dan and Phil - The Christmas Special Returns
Duration: 1:00:00
The vortex between the real world and the internet is prized open again by the video blogging superstars and brand new Radio 1 presenters AmazingPhil and Danisnotonfire. Only this time, it's permanent.
Available since: Christmas Day 2012
This clip is from
Danisnotonfire and AmazingPhil from the interweb take over Radio 1!
First broadcast: 25 Dec 2012