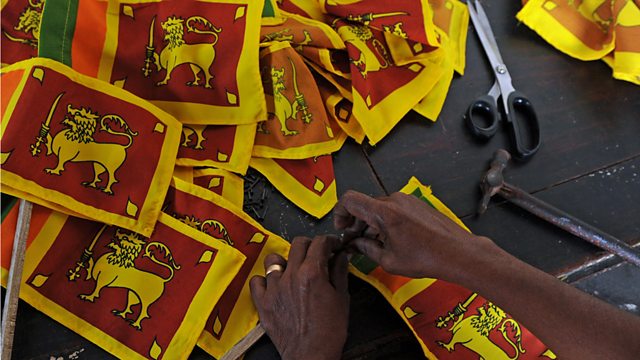 Sri Lanka: Stories from the frontline
Listen in pop-out player
A fresh look at the week's global news from across the World Service's 27 language sections, with presenter David Amanor.
TROUBLE IN BALOCHISTAN
Violence against Pakistan's Shia community is once again making tragic headlines. This week it was double bomb blasts in Quetta, capital of the Balochistan province, which have so far left over 80 people dead. Imran Ali is a journalist with BBC Pashto, and his family live in the Hazara neighbourhood, one of the targeted areas.
THE LIFT PITCH
There's only five floors to go - and BBC Mundo's Yolanda Valery finds herself amidst a mock inauguration for Hugo Chavez.
STORIES FROM THE FRONTLINE - SRI LANKA'S CIVIL WAR
This week the civil war is back in the news for both Sinhala and Tamil Services - they've been marking the anniversary of the still unsolved murder of a newspaper editor during the conflict. Priyath Liyanage and Thirumalai Manivannan, the heads of those two sections, have been friends and colleagues for many years now - and have lived and worked through some very dangerous moments while covering the war. They discuss how they covered both sides of the conflict - as well as the challenges and the condemnation they faced from their own community, and what happened when one of their own reporters was killed on duty.
ONLINE GREATEST HITS
BBC Brasil's Thomas Pappon gives the lowdown on the big-hitting stories across the World Service language sites this week - including family assassinations, baths and alien abductions.
INSIDE CHINA'S PROPAGANDA MACHINE
It's no secret that propaganda is a mighty industry within China, but how does it really work? Raymond Li, head of BBC Chinese, explains the different layers of the media control as well as his own close shaves and personal encounters with the Chinese propaganda machine.
(Image: Sri Lankan flags stitched by a tailor for Independence Day celebrations. Credit: Getty)
Last on
Mon 14 Jan 2013
01:32

GMT