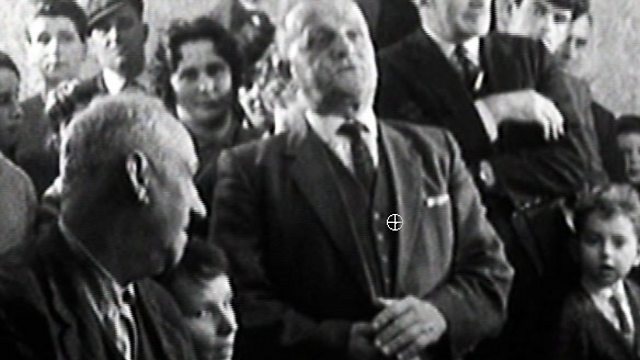 Christmas Past - New Year
A look at 2 New Year traditions still practised in parts of Wales.
Calennig - 1 January.
For many children in rural Wales the gifts of Calennig were far more important than Christmas.
From dawn until dusk on 1 January small parties of boys would pass from house to house in the village or town, carrying twigs of evergreen plants and cups or jugs of water. They would use the twigs to splash water at people and, in return, would receive the Calennig (literally a New Year's gift) - small copper coins or at times sweets.
Deriving from Calan, meaning the first day of the year, the custom refers to the practice of singing from door-to-door on New Year's Day. Traditionally, skewered fruit, such as an apple decorated with a sprig of an evergreen, was carried by the children, which was a symbol of prosperity for the year ahead.
Hen Galan - Old New Year 13 January.
Archive footage of the traditional singing that welcomes in the New Year on 13 January in the Gwaun Valley, where the old Julian calendar was traditionally followed and not the more commonplace Gregorian version. This tradition is still followed in some parts of the Gwaun Valley today, where house parties, such as that shown here are common. Traditional singing with lots of food and drinking are very much a part of the celebration. Traditionally, this food organized by the women, often included cooked goose and plum pudding.
Hen Galan was once regarded as more important than Christmas for Gwaun Valley people, with special food and drink prepared well in advance.
Contributors:
John Davies - Historian
Anne Thompson - Landlady
Nerys Howell - Food Consultant
Featured in...
A selection of BBC Christmas archive from Wales

Highlights of favourite BBC Wales programmes reflecting the story of Wales and its people.