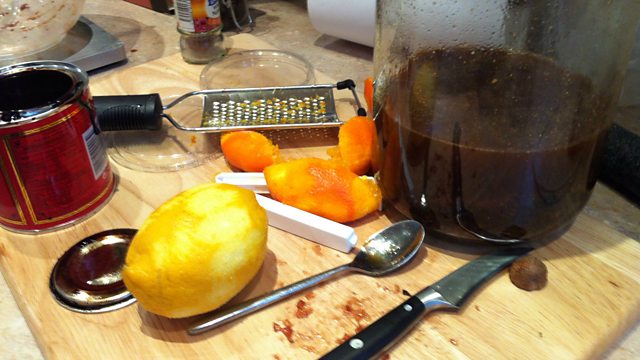 Festive Food Friday: Christmas Cake Vodka
300g/10½oz mixed dried fruit
25g glace cherries
75g/3oz soft brown sugar
2 tsp cinammon
2 tsp ground mixed spice
6 cloves
½ whole nutmeg, finely grated
2 clementines finely grated zest and juice
1 unwaxed lemon zest finely grated
1 teaspoon black treacle
750ml/1 pint 5fl oz bottle good quality vodka
1. Mix the dried fruit with the sugar, cinnamon sticks, mixed spice, cloves, grated nutmeg and citrus zest in a large bowl.
2. Pour over the vodka, and cover tightly with cling film.
3. Place in the fridge and leave for 3 days, stirring once each day.
4. Line a sieve with a double layer of fine muslin and place over a large clean jug.
5. Pour the dried fruit and vodka mixture into the sieve and allow to drip through into the jug.
6. Pour into a sterilised bottle. (To sterilise your container wash it and then put it in a preheated oven 150 C, gas mark 3 for a minimum of 10 minutes.)