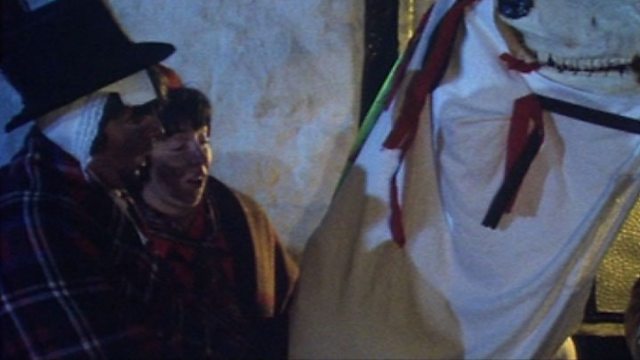 Christmas Past - New Years Eve : Mari Lwyd
Through long lost footage from the archives, we see some of the spirit of Christmas past and rediscover the age old traditions that once made Christmas and the New Year in Wales unique.
The most renowned of the New Year traditions in Wales was that of the Mari Lwyd, the phrase meaning the Grey Mare, a pre-Christian custom that's still acted out in parts of Wales.
The Mari Lwyd was a horse's skull covered with a white sheet and ribbons. It had false ears and eyes and was carried on a long pole.
Gangs of men and young boys would carry the Mari Lwyd from door to door. They had usually consumed copious amounts of alcohol and the procession would be accompanied by a growling cacophony of noise.
When a door was opened the householder would be assailed by poems and insults - in Welsh - and to this they were expected to reply in like form. When the verbal battle had been won or lost the Mari Lwyd and her followers were invited inside for yet another drink.
MAKE A MARI LWYD
Making your own Mari Lwyd could be tricky, as you'll need to get hold of a horse's skull and jaw. (However, it may be possible to improvise with polystyrene or cardboard instead). Stick on false ears, plug big shiny glass marbles into the eye sockets and give the head a mane of ribbons. Stick the head on to a broom handle, hold on to it and wrap a white sheet - just long enough to reach the ground - around yourself so the head sticks out at the top. Hold on to the broom handle and clack the Mari Llwyd's jaw against the top of the skull as you go from door to door, visiting your friends this Christmas and New Year.
Featured in...
A selection of BBC Christmas archive from Wales

Highlights of favourite BBC Wales programmes reflecting the story of Wales and its people.