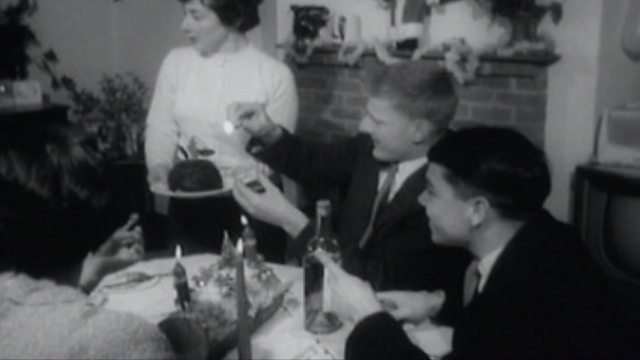 Christmas Past - Christmas Day
Christmas in Wales was once a very different affair from the season of shopping and spending we celebrate today. Archive footage shows family Christmas celebrations from a long-gone Wales; some of these traditions still live on in modern day Wales, but in a modified form.
Includes archive of a family Christmas dinner, with the whole family sitting around a large table plus the tradition of lighting the Christmas pudding. After dinner, presents would be looked at, while older members of the family go to sleep in front of the fire.
In the 1950s and 1960s TV made an entrance, altering the pattern of life on Christmas Day; an old television is seen here being switched on which the whole family watch. Family members and neighbours visited on Christmas afternoon. Also has archive of Christmas dinner being delivered by helicopter on Christmas day to a crew in an isolated lighthouse.
Contributors:
John Davies - Historian
Rev Towyn Jones
Anne Thompson - Landlady
Nerys Howell - Food Consultant